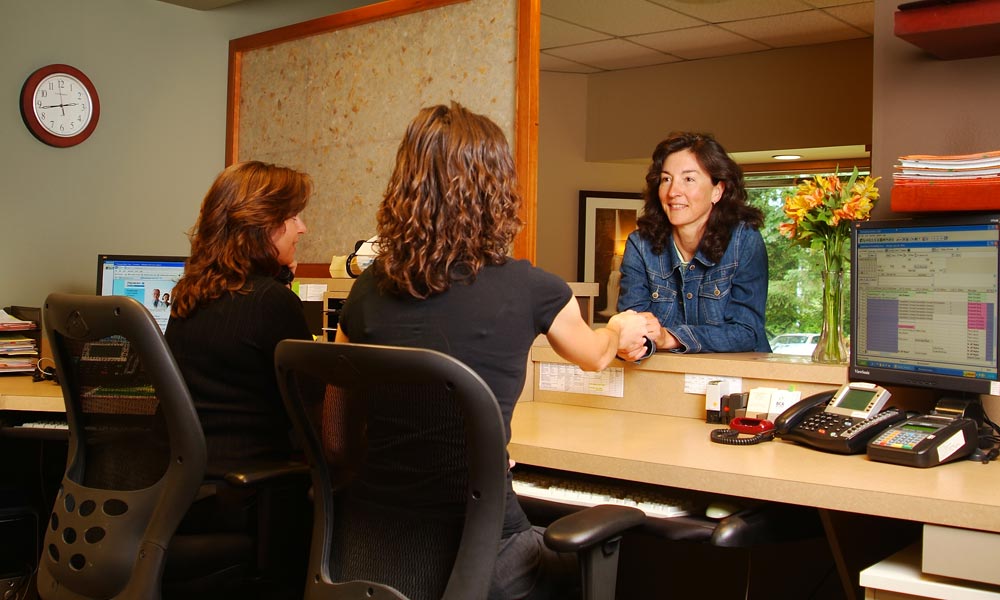 If you have never been seen by a chiropractor, you may have some questions about what you will experience.
Your First Visit
We've got you covered from the moment you walk in the door. We strive to make your entire experience positive. From your first visit until your last you will be treated with compassion and respect.
Brief Paperwork
Go to the Online Forms page to find our New Patient forms. Simply complete and bring them with you on your initial visit. The paperwork provides us with general information about yourself and your condition.
History & Examination
Once the paperwork has been completed, you will have an hour long, one-on-one visit with your doctor to discuss your health-related problems and concerns. Your doctor will listen to your story – what brought you here, and what you want to achieve. After sharing your story your doctor will perform a thorough exam to identify the root cause. When your doctor has developed a clear picture of your case he will design a personalized plan for treatment. We don't believe in "cookie cutter" treatments. Your treatment plan will be your treatment plan tailored to meet your needs. Your individual treatment plan is designed to get you back to life as quickly as possible.
You're in Good Hands
30 years of clinical excellence and outstanding customer service has earned BCA the reputation as one of Bellevue's most trusted and respected chiropractic clinics. Eastside's physicians and hospitals trust BCA to provide safe, and effective chiropractic care for their patients.
What patients are saying about BCA
BCA and especially Dr Mac are the best chiropractors I've ever had work on me!

Professional and caring. Recommend BCA without reservation.

I've had several things with my body come up and the chiropractors have been able to help me resolve them. The staff is excellent. And even though I have to drive quite a ways it is well worth it for me.

Excellent care, doctor was kind and explained everything to me very well. I trust that I am going to receive the highest level of care at this office!

To put it in just few words -if you ever in need of a team of highly professional kind helpfulness therapists, who will take the best care of you -go to Bellevue Chiropractic Associates -they will attend to all your needs when it comes to you're treatment and just give you a kind word to achieve the best outcome for you.

I was seen after a car accident, treated gently and compassionately, and I'm very pleased with the outcome.
Call now to schedule your appointment